Formed in the fall of 2022, the Community Working Group includes key leaders from all parts of the community—including local businesses, City government, and community-based organizations in the Bronx.
The Community Working Group will make sure that the unique challenges and opportunities facing the Kingsbridge neighborhood are accurately represented and reflected in the creation of a vision document for the future of the Armory. Members of the working group are united in the belief that the Armory will be a vital cultural and economic hub for the Bronx, and they are committed to creating a plan that reflects the neighborhood and borough's diverse perspectives.
Meet the Co-Chairs
Council Member Pierina Sanchez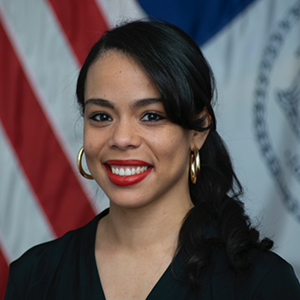 Pierina Sanchez represents the 14th Council District, which includes the resilient neighborhoods of Kingsbridge, Fordham, University Heights, Mount Eden, and Mount Hope. Pierina began her career in public service in the summer of 2007, and it propelled her into a career in public policy and urban planning. She advocated to expand early education programs at Agenda for Children Tomorrow, and helped immigrant families stabilize their status in the US. After college, Pierina came back home to work in the Council District 14 office, supporting thousands of her neighbors with their concerns.

Pierina served in the Obama White House and, after her master's program, as an urban planner at Regional Plan Association. She partnered with frontline community organizations to include thousands of low- to moderate- income voices from immigrants and communities of color and shape the critical planning process. During this time, Pierina was also a member of Bronx Community Board 5, where she fought for deep affordable housing and meaningful investments during the Jerome rezoning process, and later cofounded the Jerome Avenue Revitalization Collaborative. Pierina served as an advisor in the Mayor's Office, where she advocated for progressive housing, economic development and land use policies, and resources for NYCHA. She then served as a Senior Fellow at the Pratt Center for Community Development.

Pierina is a proud alumna of Bronx public schools P.S. 46 and M.S. 45, and the Academy of Mount Saint Ursula. She went on to graduate from Harvard University on a full scholarship and earn a Master in Public Affairs degree from Princeton University.
Sandra Lobo, Northwest Bronx Community and Clergy Coalition (NWBCCC)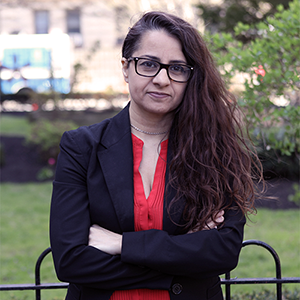 Sandra Lobo currently serves as the Executive Director of the Northwest Bronx Community & Clergy Coalition (NWBCCC), a 48-year-old member-led organization that unites diverse people and institutions to fight for racial and economic justice through intergenerational organizing. The NWBCCC organizes around health justice, environmental sustainability, school to prison pipeline, equitable economic and community development, and safe affordable housing within a racial justice and economic democracy framework.

A first-generation immigrant and resident of the Bronx for over 30 years, Sandra has worked to develop leadership of color, creating long-term organizational sustainability, and building community shared wealth and ownership and collective governance over local assets through an anti-racist lens. Before this role, Sandra was trained in anti-oppression organizing and leadership development incorporating a restorative justice framework, and served as Director of the Dorothy Day Center for Service and Justice at Fordham University for 17 years. Sandra has served on several boards of directors, including for the Simon Bolivar Foundation and Robert Sterling Foundation Advisory Council, and she is currently Vice President at the Bronx Cooperative Development Initiative.

Sandra has a Masters in Social Work with a focus on Community Organizing, and a BA in Urban Studies from Fordham University. She lives, works, and worships in the Bronx, where she raises her two children.
Elected Official Offices
Assemblymember George Alvarez
Congress Member Adriano Espaillat
Borough President Vanessa Gibson
Senator Robert Jackson
Senator Gustavo Rivera
Community Stakeholders
Community Board 7
Dominicanos USA
Gardiner Foundation
Kingsbridge Heights Community Center
Mekong NYC
Labor
Central Labor Council
Local Union 79
Small Businesses
Burnside-Jerome-Tremont Merchants Association
Kingsbridge Road Merchants Association
Urban Justice Center: Street Vendor Project
Faith Based
Our Lady of Angels Parish
Health
Morris Heights Health Center
Academic
Lehman College
Monroe College
School District 10
Economic Development
Bronx Cooperative Development Initiative (BCDI)
Bronx Overall Economic Development Corporation
Contact the Working Group to learn more about the community engagement process for the Armory and how you can get involved.