Press Release
Mayor Adams, Governor Hochul, NYCEDC, Community Leaders Unveil Vision for Redevelopment of Historic Kingsbridge Armory, $200 Million Investment in Economic Opportunities for Bronxites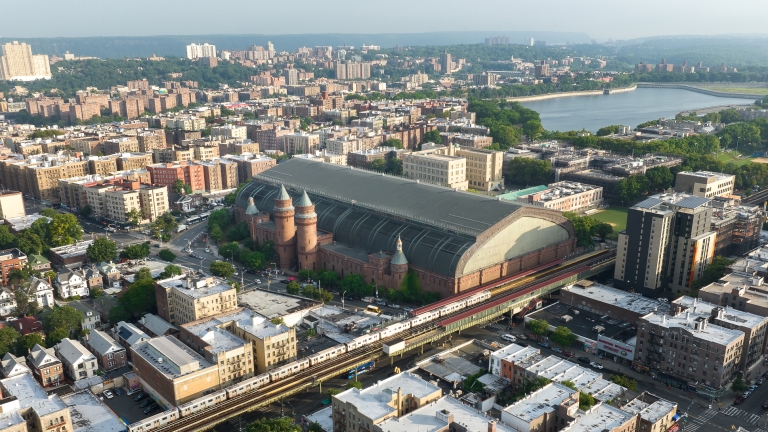 "Together for Kingsbridge Vision Plan" Follows Community-Led Process That Engaged 4,000 People Over Nine Months
Backed by $200 Million City and State Investment, Plan Outlines Community Vision for Adaptive Reuse of Kingsbridge Armory
Project Delivers on Commitment in Mayor Adams's Economic Blueprint, Potential to Deliver Over 1,800 Jobs and Up to $10 Billion in Economic Impact
NEW YORK, NY—New York City Mayor Eric Adams, New York Governor Kathy Hochul, New York City Economic Development Corporation (NYCEDC) President and CEO Andrew Kimball, and community leaders today unveiled guiding principles for the "Together for Kingsbridge Vision Plan," (also available in Spanish) outlining next steps for a process that will include the redevelopment of the historic and long-underutilized Kingsbridge Armory and the creation of new economic opportunities in the Bronx. Rooted in community priorities and drawing on growing industries, the vision plan focuses on creating family-sustaining, local jobs and improving the quality of life for residents of Kingsbridge Heights and neighboring Bronx communities.
Backed by a $200 million investment by Mayor Adams and Governor Hochul, the plan will inform the release of a request for proposals next month for the redevelopment of the Kingsbridge Armory—the largest armory in the nation—providing guidance to interested private partners on what the community and NYCEDC will look for in a future activation. The redevelopment effort—which could deliver over 1,800 jobs, including 1,100 construction jobs, and up to $10 billion in economic impact to the Bronx based on initial estimates—also builds on Mayor Adams' "Rebuild, Renew, Reinvent: A Blueprint for New York City's Economic Recovery," which prioritized creating jobs and economic opportunities for the Bronx. The project also represents another example of close city-state collaboration outlined in the "New" New York panel's action plan—investing in job centers with access to mass transit.
The vision plan also builds on several of Governor Hochul's key economic development priorities, including strategic investments in infrastructure, workforce development, and 21st century growth sectors to support good, high-paying jobs.
"The Kingsbridge Armory is a tremendous public asset that is not serving the community. This project has the potential to unlock billions in economic impact for the city while creating over 1,800 good jobs right here in the Bronx," said Mayor Adams. "And after sitting down with more than 4,000 Bronxites over the past nine months, we are proud to deliver their vision for the armory's next chapter: a source for good union jobs and a beacon of opportunity for the Bronx."
"After years of dwelling on the history of the Kingsbridge Armory, we are finally looking ahead to its remarkable future," Governor Hochul said. "I know how critical the future of the Armory is to this community and to the entire borough of The Bronx, which is why I prioritized locking in $100 million in State funding that will allow this transformative project to move forward. Working with local leaders and our partners in the City of New York, the Kingsbridge Armory will anchor this neighborhood, address longstanding community needs, and boost the local economy and I anticipate a project labor agreement to create good-paying union jobs at this site as we work to bring this project to fruition."
"The Kingsbridge Armory has long been an untapped city asset with immense potential to become a center for economic activity that could serve the local community and the Bronx at large. What sets our administration's approach to the armory apart from the past is a focus on community engagement and public investment," said Deputy Mayor for Housing, Economic Development, and Workforce Maria Torres-Springer. "I want to thank NYCEDC, our elected officials, NWBCCC, and all the community members that spent countless hours crafting a thoughtful plan for the future. The 'Together for Kingsbridge Vision Plan,' along with Mayor Adams' and Governor Hochul's $200 million public investment, provide a strong foundation for the upcoming RFP that will set this plan into motion."
"The 'Together for Kingsbridge Vision Plan' is a plan that places the needs and future of the community front and center—providing a roadmap for what a redeveloped Kingsbridge Armory can be," said NYCEDC President and CEO Kimball. "We are grateful to Mayor Eric Adams and Governor Hochul for the critical investment, as well as the elected officials who supported and worked diligently throughout this process with the community. NYCEDC is especially thankful to the Kingsbridge Armory Working Group led by its co-chairs, Councilmember Pierina Sanchez and NWBCCC's executive director, Sandra Lobo."
"Today's announcement of the 'Together for Kingsbridge Vision Plan' culminates a nine-month community engagement on how best to reimagine redevelopment of the Kingsbridge Armory, a beloved and treasured iconic symbol for all who call the Bronx home," said U.S. Representative Adriano Espaillat. "My constituents have long supported transforming the Kingsbridge Armory into an economic engine to uplift our community, and today, through a collaboration between stakeholders, federal, city, and state officials, we are moving forward with the most transformative economic project that the Bronx has ever seen that will bring good-paying jobs and labor standards that will support working families and help them thrive. I commend New York Governor Hochul and New York City Mayor Adams for their significant contributions to the Kingsbridge Armory and all who worked to bring this visionary redevelopment plan to fruition."
"I proudly partner with Mayor Adams to foster economic growth in every corner of New York City, and today's 'Together for Kingsbridge Vision Plan' is a milestone in revitalizing the Bronx," said New York State Assemblymember Jenifer Rajkumar. "The plan fast tracks the Kingsbridge Armory's redevelopment into a hub of good-paying jobs, economic activity, and vibrancy in Kingsbridge Heights. Following almost 30 years of inaction, Mayor Adams and the NYCEDC spent nine months engaging with over 4,000 people in the community. The workshops, surveys, Community Board meetings, tours, and small group discussions allow the Mayor to understand exactly what the community wants for the site. This will inform the RFP process so that the City transforms the Kingsbridge Armory from a vacant space into a beloved institution in the Northwest Bronx."
"From the onset of our administration, we said we were committed to working with our community partners to reimagine the Kingsbridge Armory, and we are now one step closer to doing just that with the 'Together for Kingsbridge Vision Plan.' This vision plan is not only a labor of love but is the result of months of planning, collaboration, input, and support from various stakeholders dedicated to ensuring Bronxites have a say in the future of the largest armory in our nation," said Bronx Borough President Vanessa L. Gibson. "It is exciting to see so many of our residents, merchants, elected officials, and community leaders participate in this process as well as their shared interest in making this a space that can not only benefit Kingsbridge Heights but the entire borough. When advocates, elected officials, community leaders, and stakeholders come together with the same vision and priorities, our borough wins. Reimagining the Kingsbridge Armory is a tremendous win for the Bronx, our city, and our state. I want to thank Governor Kathy Hochul and Mayor Eric Adams for their significant capital investment in the armory as well as the NYCEDC, my colleagues in government, our Deputy Borough President Janet Peguero, community advocates, and everyone else with a vested interest in transforming and revitalizing the Kingsbridge Armory."
"The Kingsbridge Armory is a majestic, incredible structure that could be activated to deliver so much to our community and the Bronx," said New York City Councilmember Pierina Sanchez. "It could represent a catalyst for economic transformation in one of the neighborhoods hardest hit by the pandemic and that was already struggling economically prior to the pandemic. It could represent hundreds of good-paying, union jobs. I am honored to join the mayor and governor, our neighbors, and my colleagues in government to announce this $200 million investment. After nine months of deep community engagement, this announcement represents an incredible milestone in support of our collective commitment. As we prepare to release the community's vision for Kingsbridge Armory, I am heartened by the strong foundation we are starting on."
Planning efforts for the Kingsbridge Armory date back nearly three decades and include two requests for proposals that failed to advance through the City Council or obtain necessary financing. Over the last decade, the armory has served as an emergency supply and food distribution center following Hurricane Sandy, at the onset of the COVID-19 pandemic, and after the Twin Parks fire. With community buy-in and a major commitment of public funding from Mayor Adams and Governor Hochul, the "Together for Kingsbridge Vision Plan" represents a practical and implementable path forward to redevelop the armory, create prevailing wage and union jobs, and deliver economic opportunities for community residents.
The "Together for Kingsbridge Vision Plan" is the result of an extensive, community-driven process that kicked off in November 2022 and included a series of public workshops and engagement opportunities designed to develop a shared vision for how this tremendous public asset can support the neighborhood and the community's economic development priorities. As part of the approach, engagement was guided by a "Together for Kingsbridge" community working group of neighborhood leaders, community-based organizations, key institutions, federal and state elected officials, and others—led by co-chairs New York City Councilmember Pierina Sanchez and Northwest Bronx Community and Clergy Coalition (NWBCCC) Executive Director Sandra Lobo.
The nine-month community engagement process reached over 4,000 people and consisted of:
More than 1,000 participants across four public workshops;
More than 900 survey respondents;
More than 500 community members touring the armory;
Nine community board meetings;
16 small group discussions;
Three public information sessions; and
Feedback from more than 75 industry stakeholders on the armory's potential.
In the engagement process, community members identified two key sets of priorities, which aim to shape proposals, for the future of the Kingsbridge Armory. The first is a set of guiding principles—actionable goals for the project in response to the community's strengths and needs. The community's guiding principles include prioritizing youth, welcoming older adults, fostering intergenerational relationships, creating jobs and wealth for existing workers and communities, growing a regenerative local economy, maximizing community ownership, and putting the Bronx on the map.
The second is a list of priority uses for the armory—outlining industries and potential activations that could advance the community's economic development priorities. Within the priority uses, community members identified a series of preferred industries that would allow the armory to attract major private investment enabling the transformation of this public asset into a sustainable economic engine for local jobs and wealth. Those preferred industries include film and television, sustainable manufacturing, emerging technologies, and urban agriculture.
Along with the preferred industries, community members identified a set of complementary uses to provide equitable access to services and work opportunities for Bronx communities. Those complementary uses include vocational training and a small business incubator; retail, food, and beverage uses; community gathering and organizing space; Bronx arts and culture space; recreation and health; and sustainable food systems. The community also stressed a desire for the project to hire local and union talent, sourced from Bronx-based businesses, and provide vocational training to residents.
The Kingsbridge Armory opened in 1917 and was used by the United States military until 1994 before reverting to city ownership in 1996. The armory was designated as a New York City Landmark in 1974 and placed on the National Register for Historic Places list in 1982. More recently, during the COVID-19 public health crisis, the Armory served as a temporary food distribution center and, early last year, was used by Bronx Borough President Vanessa Gibson and local officials to store supplies for those impacted by the Twin Park North fire.
"'The Together for Kingsbridge Vision Plan' is yet another example of the city and state's progress in advancing the 'New' New York agenda, said "New" New York Executive Director B.J. Jones. "This project lays the groundwork for further investment to support and grow the Kingsbridge Heights neighborhood as part of an inclusive recovery."
"I am proud to join Governor Hochul, Mayor Adams, colleagues, local community leaders, and neighbors to celebrate the release of the community-led 'Together for Kingsbridge' Visioning Plan. The commitment of $200 million from the state and city, including the $100 million I have been securing in the budget for the last few years, will help ensure the redevelopment of the historic Kingsbridge Armory will finally reach its full potential," said New York State Senator Gustavo Rivera. "I'm looking forward to collaborating with all stakeholders to make sure that it is the Bronx who decides how we reimagine and transform the Kingsbridge Armory."
"Today marks a celebration of hope and progress as Mayor Adams, Governor Hochul, NYCEDC President and CEO Kimball, and the dedicated community leaders unveil the 'Together for Kingsbridge Vision Plan,'" said New York State Senator Luis Sepúlveda. "This remarkable journey, guided by the voices of over 4,000 people, signifies a true commitment to joyfully redefine the Kingsbridge Armory, breathe new life into our historic spaces, and empower the vibrant Bronx community with unprecedented economic opportunities. This plan echoes the harmony and vitality of our great city, a testament to the power of unity and shared aspirations."
"In the heart of the Bronx, the Kingsbridge Armory stands as a beacon of possibility. The 'Together for Kingsbridge Vision Plan' illuminates a path toward a revitalized future, where the armory's transformation is a testament to community-driven change," said New York State Senator Robert Jackson. "Success lies not just in bricks and mortar, but in our unwavering dedication to weaving the dreams and voices of the community into its very foundation. The Kingsbridge Armory Working Group's journey continues, fueled by unity and guided by a shared purpose, and with this investment from New York City and New York State, we will forge ahead toward the triumphant realization of this transformative vision."
"I lived within a couple of blocks of the Kingsbridge Armory for many years as a resident of Kingsbridge Heights. Its future is very important to me," said New York State Assemblymember Jeffrey Dinowitz. "This is the largest indoor armory on the world and can be an incredible resource, not only for Kingsbridge Heights, but for the entire Bronx and beyond. I look forward to a plan for the armory that benefits the Kingsbridge Heights community, part of which I represent in the Assembly, and the 1.5 million people of the Bronx, and I am excited to work with all stakeholders to make this happen."
"A community-led process to create the redevelopment plan for the Kingsbridge Armory is essential to a successful project that provides good jobs with local hiring and prevailing wages, while improving residents' quality of life," said New York City Council Speaker Adrienne Adams. "Its guiding vision being determined through extensive community engagement of neighborhood stakeholders is important to achieving these shared goals. Through Councilmember Sanchez's leadership, the Council has been a proud supporter of a participatory process that centers the community's priorities and we made $12 million in early capital investments to support these objectives. As this process moves forward, it will be critical to continue working with local leaders and stakeholders to realize a vision that reflects the community's priorities. We look forward to continuing and deepening the partnership that helps reach this outcome."
"When we invest in underutilized asserts like the Kingsbridge Armory, we generate economic opportunities for surrounding neighborhoods, the benefits of which extend throughout the city," said New York City Council Majority Whip Selvena N. Brooks-Powers. "I commend the mayor, the governor, and my colleague Councilmember Pierina Sanchez for centering the needs of the community throughout this visioning process, and I look forward to the revitalization of the largest armory in the nation."
"Preserving historic sites in New York City is critical for protecting our cultural heritage and connection to the past, as well as fostering a sense of identity and continuity for future generations," said New York City Councilmember Farah N. Louis, chair, Subcommittee on Landmarks, Public Sitings, and Dispositions. "The Kingsbridge Armory's redevelopment exemplifies the vital role of community involvement in shaping public spaces and development, truly reflecting the diverse needs and interests of the Bronx community. I applaud Mayor Eric Adams, Councilmember Pierina Sanchez, and NYCEDC President Andrew Kimball for emphasizing the importance of listening to residents and focusing on creating local jobs, improving quality of life, and rejuvenating underutilized areas. This visionary plan serves as a practical and implementable way to redevelop the Kingsbridge Armory and provide economic opportunities, ultimately benefiting the community and the city as a whole."
"The Kingsbridge Armory is a treasure that holds immense potential for the Bronx," said New York City Councilmember Eric Dinowitz. "As a teacher at the Walton campus, I would walk by the Armory every day and see an unmet opportunity for the Bronx. With city and state investment, we can unlock that potential and bring much-needed economic opportunities to The Bronx."
"A huge and exciting day for the Bronx! Thank you to Governor Hochul and Mayor Adams for their monetary commitments to the Kingsbridge Armory and the Bronx," said New York City Councilmember Amanda Farías. "This is the largest armory in the United States and with that comes a plethora of economic and cultural opportunities to be had in this repurposed space. I look forward to supporting the RFP process and finding a hard-working partner to meet the needs of our communities and make the armory everything it can be! Thank you to Council Member Sanchez and the NYCEDC team for your continued hard work on this project."
"I want to thank New York City Mayor Eric Adams, New York Governor Kathy Hochul, and New York City Economic Development Corporation President and CEO Andrew Kimball for providing our community with a platform to speak up on how the Kingsbridge Armory project can best help our neighborhood and the borough. Efficient governance entails listening to the needs of the community, and the 'Together for Kingsbridge Vision Plan' provides Bronx residents with an opportunity to make suggestions on how the Kingsbridge Armory project can best benefit the local neighborhood," said New York City Council Member Marjorie Velázquez. "Previously proposed plans for the Kingsbridge Armory have always had the potential to bring about transformative changes to the Bronx, not only improving the quality of life in Kingsbridge but also providing local jobs for local residents. However, the 'Together for Kingsbridge Vision Plan' is a great way for city and state officials to take into account the valuable input and concerns of Bronx residents who will be most directly impacted by the construction of the project. This will ensure that the project is designed in a way that meets the needs of the community and benefits all residents of the Bronx."
About NYCEDC  
New York City Economic Development Corporation is a mission-driven, nonprofit organization that works for a vibrant, inclusive, and globally competitive economy for all New Yorkers. We take a comprehensive approach, through four main strategies: strengthen confidence in NYC as a great place to do business; grow innovative sectors with a focus on equity; build neighborhoods as places to live, learn, work, and play; and deliver sustainable infrastructure for communities and the city's future economy. To learn more about what we do, visit us on Facebook, Twitter, LinkedIn, and Instagram.